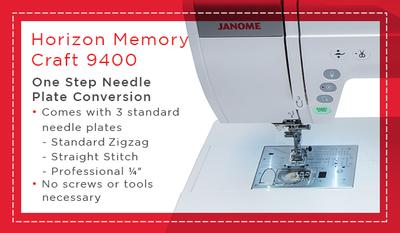 << Previous Product | Next Product >>
Janome MC9400QCP
11 inches to the right of the needle
Quick plate conversion
9400 with upgrade now in stock!
Top Loading Full Rotary Hook Bobbin System
350 Built-In Stitches and 4 Alphabets
Superior Needle Threader
Cloth Guide Included
One-Step Needle Plate Conversion with 3 Included Plates
Detachable AcuFeed Flex Layered Fabric Feeding System
USB Port and Direct PC Connection
Stitch Composer Stitch Creation Software
Variable Zig Zag for Free Motion Quilting
Straight Stitch Needle Plate with Left Needle Position for 1/4" Seam Foot
Professional HP Needle Plate and Foot
Advanced Plate Markings
Full Color LCD Touchscreen (4.4" x 2.5")
Sewing Applications On-Screen Support
Maximum Sewing Speed: 1,060 SPM
Full Intensity Lighting System with 9 White LED Lamps in 4 Locations
11" to the Right of the Needle
Retractable High Light
Improved Ergonomic Shape
Now available at Harbour's Sew & Vac!
Printed at www.harboursewvac.com
© Copyright 2021 Harbour Sew & Vac, Inc.. All Rights Reserved.